INSIDER GUIDE: Explore the NEW Monument Trails at Pinnacle Mountain with Your Family in Tow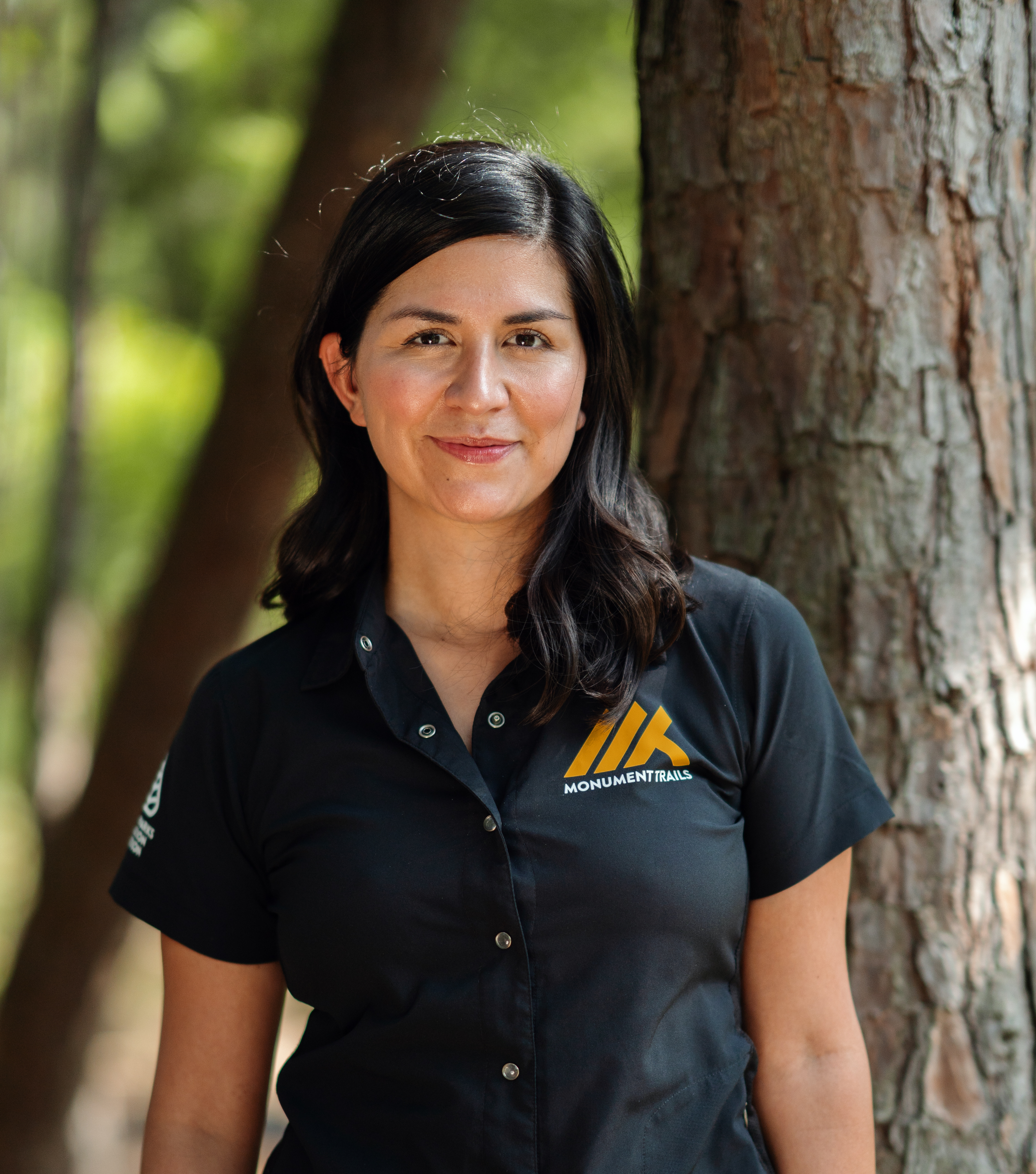 By Suzanne Grobmyer, Executive Director of the Arkansas Parks and Recreation Foundation
Load everyone up and hit the trails!
I'm Executive Director of Arkansas Parks & Recreation Foundation. Founded in 2017, we are all about adventure and helping to drive private support for parks and recreation in Arkansas. We were founded with a specific charge to support Arkansas State Parks, some of our state's most beloved places.
Our work in State Parks have been punctuated by the Monument Trails. Our collection of shared-use trails spans across the state and features an intersection of world class trails along with special features in the way of art, architecture and memorable moments. The trails offer enduring outdoor experiences for all skill levels and connect people to a sense of place and history.
Since we are a statewide organization with Trustees across the state, naturally our team is in two key locations—Little Rock and Northwest Arkansas. I've lived in Little Rock for over ten years but grew up in Fayetteville. Home is where your heart is, and I'm happy that it shares both places. But since Little Rock is home, I'm excited to share some great tips and places to make you feel in the know.
You may live in Little Rock or be traveling from out of state. You might be wondering where to go, what to do, how to include everyone's skill levels and how to maximize your adventure. Well you are in luck; we have great adventure options for you at the new Monument Trail system at Pinnacle Mountain State Park!
Finding Your Way
When most people think of Pinnacle Mountain, they think of the mountain you climb extending from the day use area where the playground is. Well, good news: you are going somewhere new!
Download GeoPDF of Monument Trails at Pinnacle Mountain State Park
The three Monument Trail trailheads are located at the Visitor Center, which is right off Pinnacle Valley Road at 11901 Pinnacle Valley Rd, Little Rock, AR 72223. The parking lot, directly to your left as you enter the main road leading to the Visitor Center is your first option.
As you continue, there is a Y in the road, which is the mid-station parking lot and offers the easiest access to the climbing trail, downhill trails and Coachwhip, the best green trail to explore with new and emerging hikers and mountain bike riders. If you stay right at the Y in the road, you will go toward the Visitor Center. There are two parking lots, and the final trailhead is in the lower lot near the wildflower area.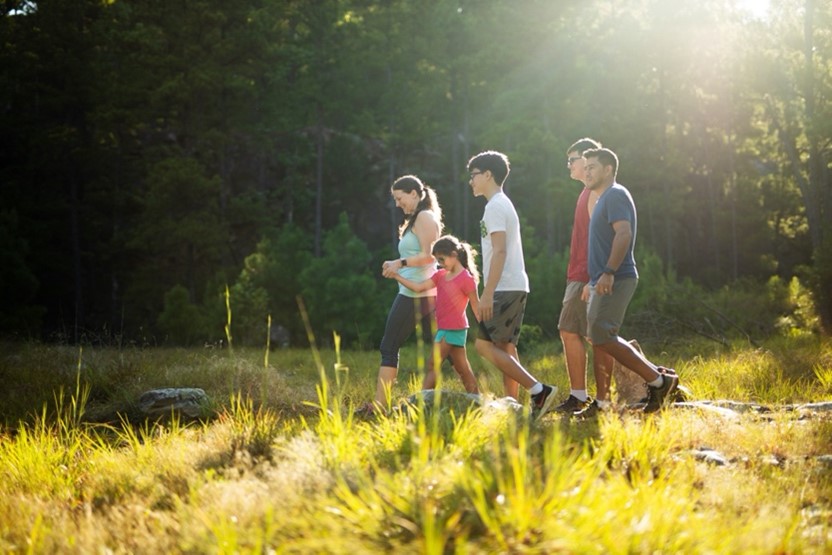 Mountain Biking or Hiking with Your Family
Coachwhip on Middle Mountain - This trail is located to the west of the Visitor Center Road. Coachwhip is named after the snake that's distinctive tail is braided like a whip. This snake calls Pinnacle Mountain home along with much of the southeast. This 2.5-mile trail is a great hike and a great ride if you have your bikes with you. This is a great place to see a part of Pinnacle Mountain you and your family likely have never seen.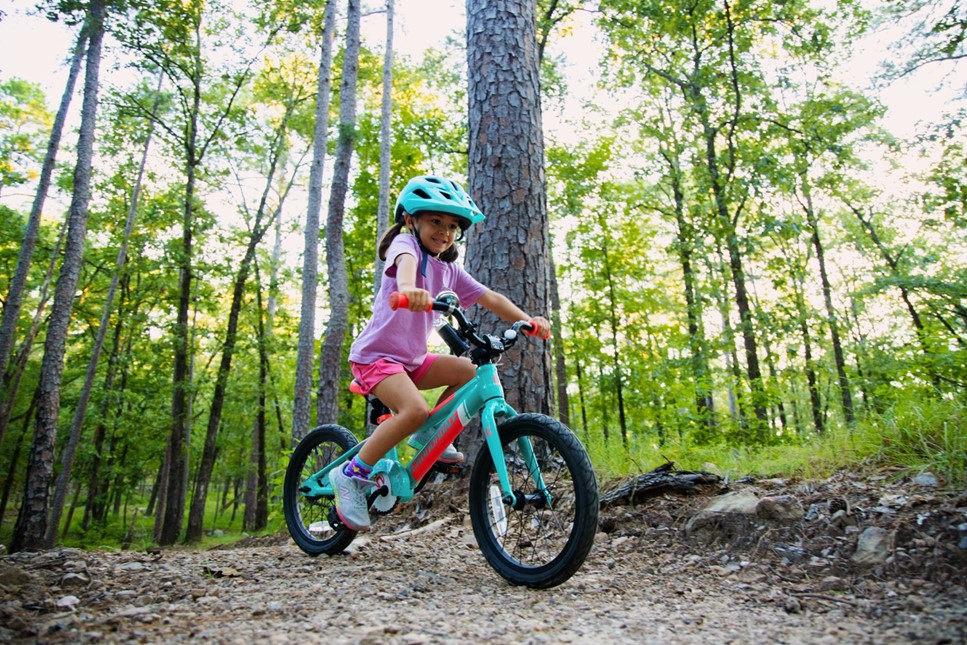 The Jackfork Loop on Fulk Mountain - You can enter this trail from the parking lot near the wildflower area at the Visitor Center. This hike is approximately 4 miles all together. You will meander from the visitor center down toward the Maumelle River and back up toward the quarry. The quarry offers some of the most sweeping, dramatic views of Pinnacle Mountain and the river valley. Pack a lunch and take in this special experience. Oh, and don't forget your camera or smartphone! This is a perfect area for pictures!
Side Note: just like skiing, mountain biking has adapted a similar rating system. This doesn't mean the same experiences are available on every green trail, so you will want to make sure you ask, take a look at the trailhead signage and align the experience you are looking for with that trail.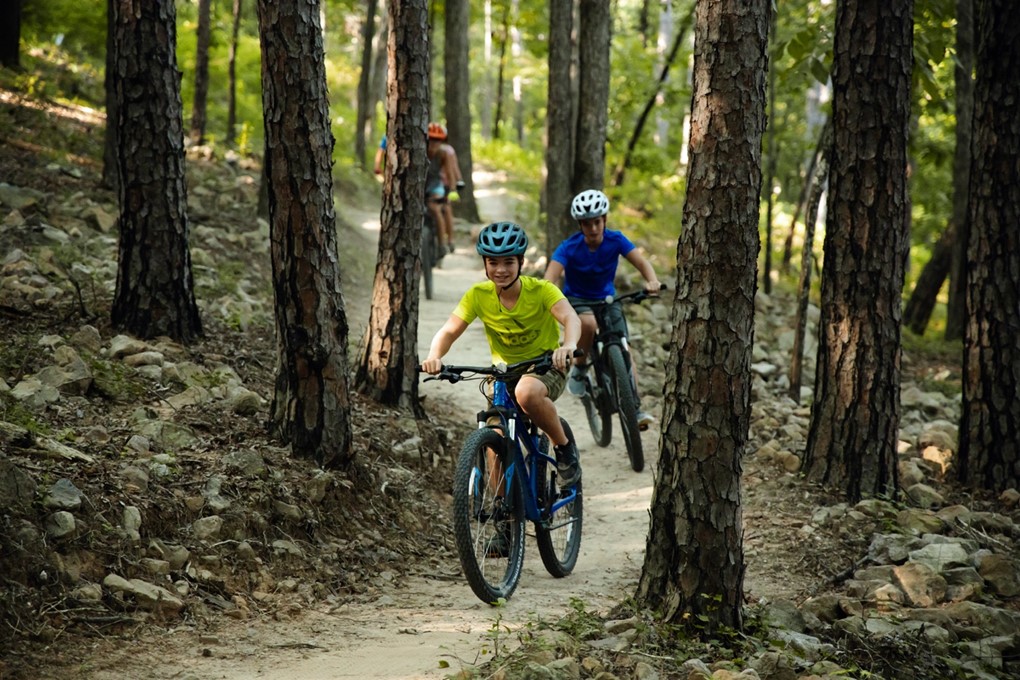 Download explanation of trail rating for Monument Trails
A special feature right under your nose
The Chaotic Zone - At the Visitor Center you will find a restroom and an opportunity to take in a view. You will see the quarry pond off the upper parking lot, and just beyond that is a deck that will place you above the intersection of the Maumelle River and the Arkansas River. Even more interesting, you will see where four of Arkansas' geographic regions collide: the Arkansas River Valley, the Mississippi Alluvial Plains, the Gulf Coastal Plains and the Ouachita Mountains. This area is called the chaotic zone, and a trail is rightly named after it. This diversity of land, water and rock are everywhere and help build on your experience, so take it all in.
Explorations in Nearby Little Rock
Big Dam Bridge — name says it all. Sunset walks on the Big Dam Bridge are a thing here. Also, if you road bike or have a hybrid bike, ride the River Trail from the Big Dam Bridge to downtown and cross at the Clinton Center train bridge.
The Clinton Center — This location has a beautiful campus that backs up to Heifer International. There is a barn in the back for a fun look into urban farming. This one is such a fun choice for the kids in your family!
Arkansas, Maumelle and Little Maumelle River — One of the most striking things about Little Rock is this river. It is a great a sight! Kayak or standup paddle board the Little Maumelle River. From the Two Rivers Park parking lot, there is boat house. Rock Town River Outfitters is awesome and will set you up with the equipment you'll need. Find times and information on their website. Tell Sam we sent you!
Sculpture garden at the River Market — Jane Rogers, Arkansas Parks and Recreation Foundation trustee, along with Dean Kumpruis, city director, have been adding sculptures to the river front park for more than 10 years. Make sure to have your kids with you for this one! There is a wonderful pocket park, the Margaret Clark Adventure Playground parallel to it, geared towards younger kids or the big boulder playground full of tunnels and long slides—everyone will have a blast.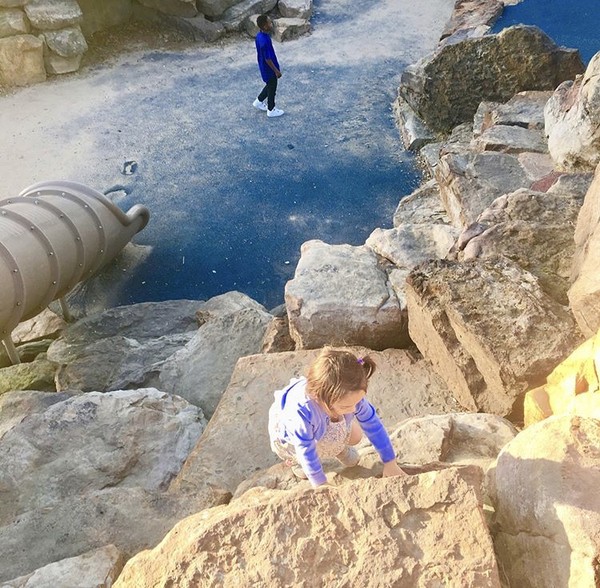 Whether your kids prefer hiking or mountain biking or you prefer exploring restaurants or seeing the sites, Pinnacle Mountain and Little Rock have something for you and your family to enjoy. So, get to it! What would you like to experience first?